Meet Dr. Cullen
---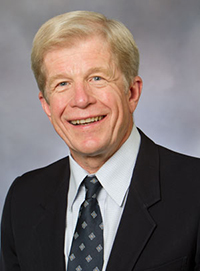 Dr. Veasey Cullen is originally from North Tonawanda, near Buffalo, New York. His secondary education was at the George School, a Quaker co-educational school in Bucks County, Pennsylvania. He completed his undergraduate degree at Juniata College in Huntington, Pennsylvania. He earned both his Doctorate degree (D.M.D.) and Advanced Certificate in Periodontics from the University of Pennsylvania School of Dentistry in 1974. He was honored with a teaching fellowship at the University of Pennsylvania from 1971-1974.
He has practiced periodontics in the York and Hanover area for the last 35 years specializing in dental implants. His practice skill and expertise in dental implants is pointed out by his placing approximately 350 implants a year.  Each year he takes over 200 hours of continuing education courses focusing on the latest research on dental implants and consults with the leading implant specialists across the country. He served on the Implant Innovations Committee of the Academy of Osseointegration for 11 years.
He served on the Pennsylvania State Board of Dentistry for 7 years from 1998 to 2005 and was Chairman of the Board for his last 3 years. He was also Chairman of the Transition Team for the Office of Income Maintenance for Governor Tom Ridge in 1994.
His other Chair positions include:
President of the Pennsylvania Society of Periodontics
President of the York County Dental Society
President of the Fifth District Dental Society of Pennsylvania
Chairman of the Government Relations Council of the Pennsylvania Dental Association
President of the Medical Dental Bureau of York & Adams County
He has also been an active member of many professional societies serving on the following committees:
Health Advisory Board of the Pennsylvania Department of Health
Fellow, International College of Dentists
American Academy of Periodontology
Academy of Osseointegration
Pennsylvania Society of Periodontics
American Dental Association, PADPAC
York County Dental Society
Advisory Committee for the Dental Assisting Program of York County Vocational Technical School
Hygiene Department of Harrisburg Area Community College
Fulfilling these official positions demonstrates his love for community service and dedication to the advancement of dentistry.
Dr. Cullen currently resides in York where he enjoys an active practice spending two days a week practicing in York and one day a week at his Hanover Office. He enjoys restoring antique cars and woodworking during the weekends on the eastern shore of Maryland.